HIDDEN TRAILS OF CINQUETERRE
Cinque Terre is one of the most amazing parts of the Italian Riviera, included in the UNESCO Heritage List. Recently discovered by tourists from all over the World, Cinque Terre can only be really appreciated in its unique splendor with the help of a professional licensed hiking guide.
Your private guide will meet you at your local hotel or upon arrival for a full day outside the beaten path, in which you will admire the five fishing villages and the dramatic steep cliffs, surrounded by breathtaking views. During this hiking tour you will visit Monterosso, dated back to 643 AD, the oldest and largest of the villages.
Hiking the hidden path at the very end of the main road leaving behind the mainstream of tourism you will have stunning views of the old part of Monterosso, get an understanding of its origin as a fortified town in the Middle Ages and also get the opportunity to see where originally the first inhabitants settled down. Surrounded by chestnut trees you will discover a beautiful monastery- called Soviore.
Walking further following the main path, you will then reach the valley around Vernazza, the most alive, colorful and picturesque village and its sanctuary beautifully hidden in the fresh, evergreen, scented vegetation, with the sea constantly on sight.
Vernazza offers you also the chance for a traditionally locally sourced lunch and break before restarting your hike towards the next village of Corniglia. During the day you will go through Cinque Terre's Muretti stone walls, you will see several castles and illustrious parish churches and you will admire the beautiful scenic terraces cultivated with vines and olive trees, facing the sea, and offering stunning views in all directions in what truly is one of the best hidden gem of Italian coastline.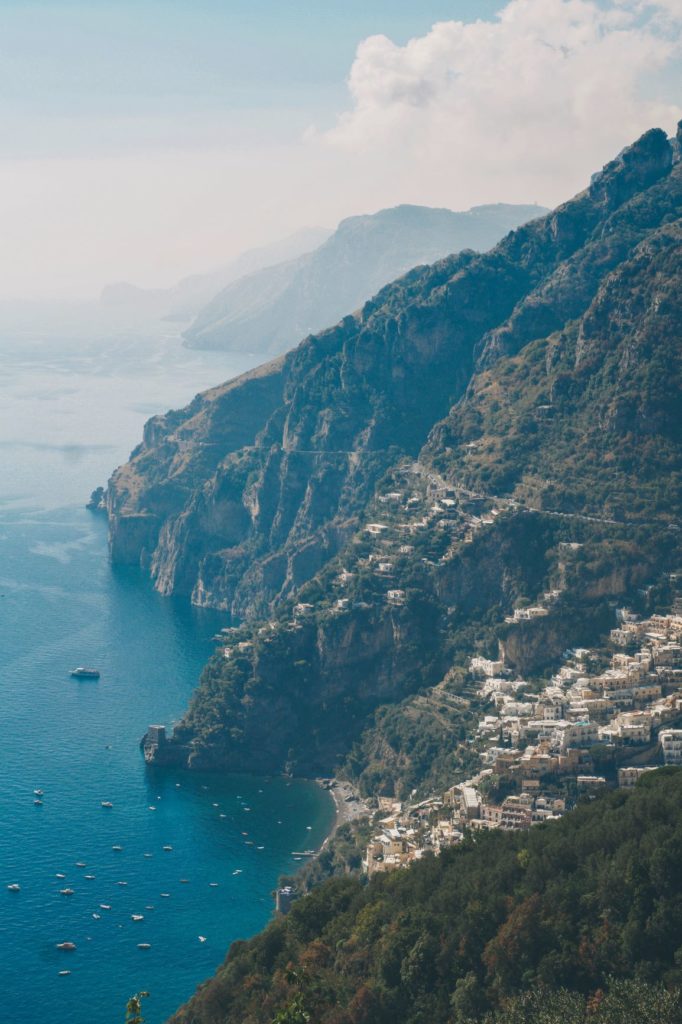 HIKING IN AMALFI
Named by the local "Il Sentiero degli Dei" this 4 miles trail, out of the beaten path, will take your breath away with its astonishing views and untouched landscapes of one of the most famous piece of coastline in the world.
You will walk across the passes of Sant'Angelo a Tre Pizzi mountain, admiring the enchanting panoramas of Praiano, Positano, Li Galli Islets, Capri and its Faraglioni rocks.
This trail goes through tunnels of elm and oak trees surrounded by strawberries bushes and Mediterranean vegetation; it crosses wild cliffs adorned by prehistoric caves and terraced vineyards, to end up at the small village of Nocelle at the bottom of the Monte Pertuso, which is only 2000 stairs steps away from Positano and its fairy-tale like colorful villas.